Save-A-Life, Inc.  is an all volunteer IRS 501 (c)(3) non-profit animal welfare organization created to prevent overpopulation of companion animals through low cost spaying and neutering.  Save-A-Life, Inc. is licensed by the Georgia Department of Agriculture.  Animal shelters in the U.S. kill approximately 5.2 million abandoned, unwanted animals each year.  Millions more suffer and die on the streets due to starvation, exposure, diseases, and automobile accidents.  For more than 4 decades Save-A-Life has assumed a leadership role in advocating low-cost spaying and neutering in order to help prevent the wholesale slaughter of unwanted, homeless dogs and cats.  Responsible pet owners do not add to the pet overpopulation problem, they spay or neuter their pets.   Save-A-Life also provides foster care, necessary medical treatment for foster animals, and a placement assistance program to help members of the public place their companion animals.  All funding for SAL programs comes from donations and fund raising activities.    We have been saving animal lives since 1967!
Current Events and Announcements
August Mobile Adoption Schedule
Looking to adopt a cat or dog? Looking to re-home one? Here is where we will be in August:
Abercorn Street PetSmart Store
Every Saturday from 11 to 2:30PM we will be at the Abercorn Street PetSmart Store.
Remember if you are seeking to re-home an unaltered pet, you must come to one of the TailsSpin locations with the pet.
TailsSpin Stores
Adoption hours are from 11 to 2 PM
August 2 – Habersham Street TailsSpin in Savannah
August 16 – Pooler Store in the Publix shopping center
August 23 – Habersham Street TailsSpin in Savannah
August 30 – To be determined.  Check this web site!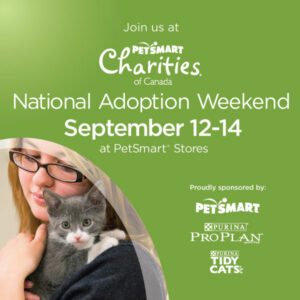 ADOPT A STUDY BUDDY!
Join Save-A-Life and other rescue groups at the Abercorn Street Petsmart store for a back to school adoption event August 9 and 10. All animals are spayed/neutered and current on vaccinations. Adopters will receive a PetSmart Adoption Starter Kit with more than $300 in coupons including a free health check at Banfield Animal Hospital, a discount on microchipping and a free bag of Purina Plan food. Adopt a homeless pet and find out why pet owners say "Studying is more fun with a buddy." To find your best buddy come to PetSmart, 11131 Abercorn Street, Savannah, from 11 to 5 PM Saturday August 9 and Sunday August 10.
Changes in Save-A-Life Discount Spay-Neuter Certificate Program
Since January 1, 2014 Save-A-Life no longer sells discount spay/neuter vouchers at PetSmart. Click on the Services/Discount Spay-Neuter Certificates menu option to see how to obtain the certificates now. Thank you for being a responsible pet owner and altering your pet. We will be still showing altered pets at the Abercorn Street PetSmart store each Saturday from 11 to 2:30. And check our web site regularly to see when we will be adopting from the TailsSpin stores.
Call for Volunteers!
Save-A-Life Animal Welfare Agency is seeking  volunteers to assist with adoption paperwork and spay/neuter voucher sales during our mobile adoptions on Saturdays at the Abercorn Street Petsmart Store.   We also need volunteers to help answer our hotline which can be done from your home.  No experience necessary-we train you. The only requirements are that you like people, want to help animals in need, can give 4 hours a month and are 18 or older. For more information go to www.savealifepets.org or call 912 598-7729 (SPAY) and leave a message for Susan.